June
If you are reading this my name is Monte and this is my journal know worldwide.
Read this to learn about my life.
Topic one- Monte met this girl who says she is a ninja. She says I will make a perfect warrior some day. Hah , I doubt that. But if I stick were I may have a 1% chance of suceeding. This girl's name was Yuffie. Yuffie is a strict girl when it comes to trianing but i can handle anything. She is nice to me most of the time and is fearless in battle. I try to copy her style and catch up to her. I was traveling in the gummi ship and she came aboard. We were introduced together and were very glad to meet each other. Seeing the maturity difference and look of Yuffie made Monte attrcted to her and was sure destiny would bring her to her to see her face once more. This is a picture of her.
Monte left her felling a bit bad to leave her. Monte arrived in the forets and asked a fellow to spar. Monte was victorious in this batle and suceeded on being a natural born warrior. Monte then saw Yuffie again and Monte knew fate connected them. Monte the walked up to Yuffie nervously and was then giving her a greeting. Monte sensed a dark presenced in the area of the tarzan forest. then warned Yuffie and Yuffie introcued him to the knowlegde of Heatless and other monster. Last but no least the Orginazation. Monte was then sure it was a member from the felling. Guessing correct a man with a hood appeared. Monte threatened him to leave and stop spying on him. Yuffie calmed Monte down though. Yuffie ask the member to remove his hood and show his face. Monte put down a picture of him shown here.
Monte then looked at his face and was calmed a bit. Monte started a conversation between the three of them. Monte was then seemed to see the man disappered so Yuffie and him relaxed from this. This man then sent to nobodies but Monte took care of them. Monte tryed to call the man out btu he would not anwser. Once again Yuffie calmed me down. Monte then saw the man appear. The man drew his hilt and Monte and Yuffie prepared for battle. The man as not after them but a simply heartless that was going to attack. Monte was then relived and was given the name of this man as he entered his dark rift. His naem was...Lexaeus
Last edited by Monte on Sat Jun 27, 2009 10:56 pm; edited 1 time in total
June
Topic 2- Monte was then told the Yuffie had to leave so Monte left to the gummi ship and guided her to her home town. Monte was elft alone felling unsafe. Monte noticed another ship fly past and followe it down. it landed in the Castle of oblivon and Monte was unsure on what he was entering into. Monte was then enterting and saw king Mickey. Mickey soon covered himself and left on the ship. Monte was then pulled into the castle by Lexaeus and was beta up but Monte was letting him. Lexaeus thinking he was all toguh let himself be distracted and Monte was able to escape. But one of the members stopped Monte and the ship took off. So how he slammed it into the Castle and stoped it and covered the exited witha moon. Monte then was given a chnce to go once more. Monte then siad that they were scared of his powers if he fought back. Sadly Monte was tripled by three members and was turned into a heartless. His Heartless apperance was this.
The Basic Heartless Form.
June
Topic 3- Monte was then wondering the world asa heartless. Soon Monte arrived to Yufie. monte looked into her eyes and forced the heartless energy into his body and reverted him to his normal apperance. Monte was then also greeted to a man name Zen. This is his apperance.
(I gotta get a picture form him so in the mean time this is it)
Monte was then further introduced to Zen into the castle of oblvion. Monte and friends attacked the Orginazation . Monte then hid the fact that he killed a man. After this Lexeaus appeared and sent nodbodeis and as my team was distracted he left with the body. The team was then sent to leave by Monte and Yuffei decision and Monte gather a book from the shelf of the hideout and they headed otu to the deep tarzan forest. Monte was then put on guard from any enemies. Monte then saw a man named terra who forgot his past. he snet him to Zen and Yuffie for further contact. Monte able to see a man in a distance and spot his so what apperance. Here's a Picture.
Monte then alramed the party of his awarness adn was a enemy no doubt due to him trying to hide. Monte was then saw him open a rift and before he could react Zen Jumped in also and was gone. Monte was then enraged and told Yuffie that he had failed.....
Last edited by Monte on Sat Jun 27, 2009 11:33 pm; edited 2 times in total
June
Topic 4- Monte then left to seach Three main lands. The tarzan forest entrance , the castle, and the pridelands. Monte checked castle and found ntohing there in the castle. Monte then checked the pridelands seieng it was the closest. he then saw Yuffie and others with him and laned with a crash from the distraction. Thinking they were enemies do to the short veiw of them and the rage from Zen's disapperance Monte unleashed his heartless power he absorbed! This is what Yuffie had a picture of.
Monte easly wrapped the boys into a darkness aura that was only able to be broken with pure light. Monte then faced yuffie with a roar and being his pursuit. Gaining closer and closer Yuffie couldnot stop the beast. Monte looked into Yuffie's eyes once more as before and fought back the darkness. Monte was them seemed to a simulated heart atatck but not serious and fell Knocked out. Monte was then woke up form a Cura spell from Yuffie. Monte was then bakc to his normal state and forgot about everything that happen....
June
Topic 5- Monte was then cured from this as you were told in the last entry. Monte and his team did not sense Zen's Presence and was going to have to tell Yuffie. Yuffie did not belive Monte and roughed him up but Monte took no effort to fight back. Yuffie then was takened over by dakrness but was knocked out by Monte fast before any damage was caused. Monte has a Picture Show here.
( Like Riku Yuffie has a look appearance change to a Evil look) Monte then gave a speach to Yuffie after she reverted and then calmed her a bit. But sadly I had to knock her out. Monte began to fix the gummi ship and was ready to get going and search for Zen. Zen sooned appeared in the Pridelands and Yuffie was hsocked. She was unable to say or move. Monte finnaly finished the ship and saw Zen. motne was also suprised and got Yuffie out of her Shocked State. Monte then soon got his team and got out of there before they were stalked down by the Orgnization. Monte told Yuffie he owuld come abck and Yuffie agreed that she was wrong and was given her thanks for giving her hope. Monte team still lives on for now. Monte then dropped the team off in Halloween town and said he would return soon adn get them.
Last edited by Monte on Sat Jun 27, 2009 11:37 pm; edited 1 time in total
June
Topic 6- I meet a new kid named jay. He is the Rookie to our Squad. We went lookign for herbs and Yuffie was acting weird. We were getting finished and a sensed the dakr aura comign form her. I threatened to lock yuffie up and kepe her there till she clams down but she landed and took off. Luckily I ran after her. We both used our darkest form possibly but Yuffie ended up escaping. Mont ereturned to the ship and Lexeuas was on the ship. Monte was limbing and was a hopeless soul. Lexaeus took advantage and turned Mone in to a Pure heartless. A image in Lexaeus Picture.
Monte was said to be stronger then Ansem in this form. Sadly These are my Last Word sin my Journal maybe. Moments after Lexaeus turned me in to this i was slaughter being distracted. (Last Letters in Blood)
Good Bye Yuffie. I am sorry i could not save you. If only i could look into your eye once more and see you glorious smile.
June
Topic 7- Seems as if im still alive. But as a Heartless stronger then Ansem. My name is the Mist now. the Mist ggoes around turnign poeple to Heartless for his kingdom. One dya he infected a total of 5 people. Lexeaus tryed to stop him though. Monte was weka form fighting all day and was stored in his resting rengenater. Monte soon woke up and went to halloween town. He saw Yuffie there and Yuffie restored him. After that Monte had stored the darkenss in a capsule in the tarzan forest. Monte soon absorbed it again and had compltete control over it. His dark form looks like this.
June
Topin 8- In halloween town I disocvered who was the person who had given Yuffie her dakrness. Yuffie stopped me form killing hima dn started to atatck me. Within mintues into the fight Yufife was Knocked Out by me. The man told be that was sure the Yuffie was going to kill any close ones and Monte should stay away.I took Yuffie and met up with Jay. jay said he had lost Bizmo and we went the the Castle of oblivion ot find him. A man appered and keep threating us thta he would kill us if we didnt leave. He looked like this.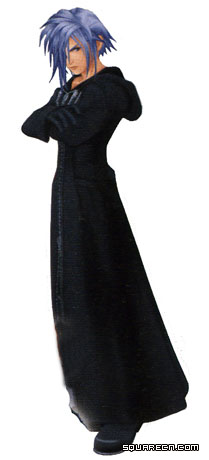 Monte was then told to put Jay in hte ship while we delt with this. Soon after this we found Bizmo and we were reunited as a team.


Similar topics
---
Permissions in this forum:
You
cannot
reply to topics in this forum